Introduction:
The case study illustrates the management and the long-term results of a 55-year-old male patient who had suffered a complex acetabular fracture due to a road accident. His injury was treated using a combined Magu-Jostan Modified Kl Approach and Anterior Surgical Approach, which resulted in significant recovery and restoration of the patient's hip function.
Patient Story:
Patient is a 55-year-old male. The patient was involved in a severe road accident resulting in a complex acetabular fracture and upon further examination, imaging revealed a multi-fragmented fracture of the acetabulum that indicated a need for immediate and specialized intervention.
Treatment Strategy:
Together with Dr. N. K. Magu and his multidisciplinary team opt for a combined approach to address the complex nature of the fracture. Two surgical approaches were devised: an anterior surgical approach and the less invasive posterior Magu-Jostan Modified KL Approach. The goals of this novel approach were early recuperation, stability, and early rehabilitation.
Surgical Procedure:
Under general anesthesia, the patient underwent a combined surgical approach. While the posterior minimally invasive approach facilitated the reduction and fixation of the posterior acetabular wall fragments, the anterior approach allowed access to the anterior column and wall of the acetabulum. Using specialized procedures and implants, the shattered bone fragments are carefully repositioned and fixed during the treatment. 
Posoperative Rehabiliation:
Following the surgery, the patient underwent a tailored comprehensive rehabilitation program situated to his condition. To recover hip function and the range of motion, the rehabilitation method comprised progressive mobilization, weight-bearing exercises, and physiotherapy.
Follow-up and Outcome:
After 8 years of constant follow-up, the patient made a remarkable recovery. The patient regained a full range of motion in the hip joint and demonstrated the ability to perform all hip movements without any discomfort. The Harris Hip Score which is a measure of hip function, stands at an exceptional 100, indicating an excellent joint function and absence of pain or any hindrances in daily activities.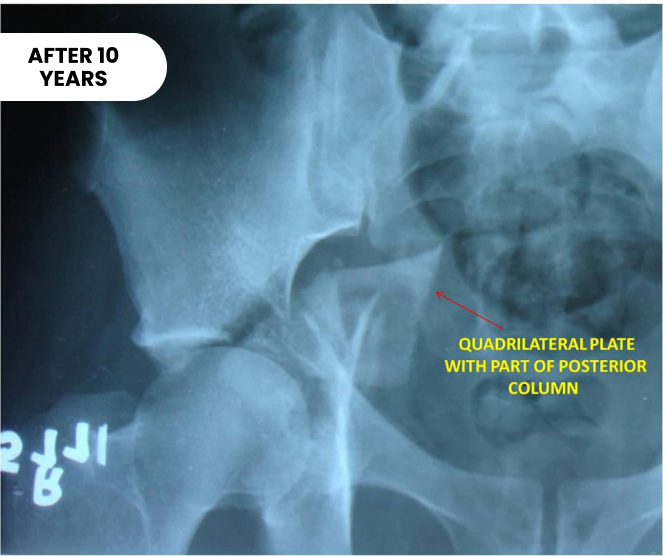 Conclusion:
The successful management of this complex acetabular fracture via the Magu-Jostan Modified Kl Approach and a combination of the Anterior Surgical approach has resulted in tremendous long-term outcomes. The patient's restoration of hip function and excellent Harris Hip Score after 8 Years demonstrate the effectiveness of this unique surgical procedure in resolving difficult acetabular fractures and ensuring optimal patient recovery.